Dear Canyon Creek Families,
As we forge ahead into October, I would like to again say thank you. Thank you for ensuring that your kids are online and engaged in school (our attendance continues to be great!). Thank you for taking the time to engage in parent/teacher conferences and giving us the opportunity to get to know your children and families better. Thank you for attending curriculum night via zoom and learning more about what your kids will be learning this year. It is an understatement to say that this school year is presenting all of us with some challenges. Thank you so much for your commitment to school and your willingness to work through those challenges.
The other members of the admin team and I were excited to see so many of our Canyon Creek Coyotes during our materials distribution and school pictures event. We were happy to hear that overall, things are going well for our students. Even though we heard positive comments, we want to make sure that we check in with students across the school. In the next two weeks, 1st through 5th grade students will be taking a student climate survey. We especially want to ensure that students feel connected as we are engaged in online learning. This relates directly to our school's Strategic Action Plan. One of our goals is that Canyon Creek Elementary students will have an increased connection to school and engagement in learning. This includes feeling safe, having an increased sense of belonging and personally meaningful friendships, and believing that our school is vibrant and inclusive, with rules that are fair and equitable.
In addition to our student climate survey, parents and caregivers can help us by completing our Family Survey, between now and October 16. Your responses will help us get a better picture of how school is going for your child. Our plan is to give these surveys in the Fall and the Spring and use the information to help us make adjustments to what we are doing.
I am encouraged as I read Dr. Reid's COVID Weekly Updates. It is exciting to think about the possibility of students starting to return to campus. As we wait for news about moves between Northshore learning stages and collectively work to ensure that our communities are healthy and safe, I hope that your families remain healthy, and that you find and create many moments of joy this fall.
Sincerely,

Bruce Denton
Principal
bdenton@nsd.org
In This Issue...
Dates to Remember
In the Know:

5th Grade Beginning Band or Second Year Strings
Attendance Line and Email
Canyon Creek Book Circulation Starts This Week
Zoom Lunchtime Fun

In Appreciation

Thank You PTA
Congratulation Caring Coyote Winners in September

PTA News
District News
Dates to Remember
Important Events
October 6-9 Drive Through Flu Shot Clinic (by appointment only) 9:00am-5:00pm
Early Release Wednesday 2:10pm: 10/7, 10/14, 10,21 and 10/28
In the Know!
5th Grade Beginning Band or Second Year Strings!
Students may play one of the following instruments:
String instruments are: violin, viola, and cello
Band instruments are: flute, clarinet, trumpet, trombone, baritone, and percussion
Class schedule:
Classes will begin the week of October 19
Classes will meet 8:00am-8:45am at most schools. Once confirmed, exact times for each school will be posted to the website.
Class meeting days by instrument:

Second year string classes: Violins will meet on Monday and Thursday. Cellos and basses will meet on Tuesday and Friday. Violas will meet either Monday and Thursday or Tuesday and Friday (depending on instrumentation and enrollment at the school).
Beginning band classes: Brass and percussion will meet on Monday and Thursday. and Woodwinds will meet on Tuesday and Friday.
String instructors for Canyon Creek: Melissa Newman (mnewman@nsd.org)
Band instructors for Canyon Creek: Dan Carlson (dcarlson2@nsd.org)
Registration:
Registration is online at nsd.org.
Students will be enrolled in the band or string program at the elementary school he/she attends.
If your child participated in the Beginning String program this past school year, we encourage him/her to continue in Second Year Strings this year.
If you have any questions regarding the program at your elementary school, please contact the band or strings instructor for your child's elementary school. For questions regarding the district program, email Laurie Lundberg at llundberg@nsd.org.
Attendance Line and Email:
When your child will be absent from school, please call our 24-hour phone line at 425-408-5710 or email CCAttendance@nsd.org and CC your students teacher. Please leave a message or send in an email by 9:45am.
Prearranged/Extended Absences:
In the event that your child will miss more than two consecutive school days for a reason other than health or medical issues, complete and email the Pre-Approved Absence Request Form to Lynnea Webb lwebb@nsd.org. Please submit the form at least one week before the first planned day of absence. For additional attendance information is available on the school website.

Canyon Creek Book Circulation Starts This Week!
We are so excited to be checking out library books to students again! You should have received an email last week with the details for the plan, but in case you missed it, here are the links to the Book Circulation Letter to Families and Book Delivery Form (Required EACH TIME you want to check out books). Also, the NSD School Bus Book Delivery program was featured on King 5 News! Here is the link to that short video: King 5 News Video Featuring NSD Libraries. We can't wait to see your students and deliver their books to a neighborhood near you!
Mrs. Beavo and Mrs. Fiser
Zoom Lunchtime Fun

Mr. Graff, Ms. Slywka, Ms. Hall and Ms. Powers (Canyon Creek School Assistants and Dean) invite your student to join us once a week for an optional lunchtime fun zoom for students to connect with other students in their grade and us!

Come for a few minutes, pop in and out, stay for the whole 20 minutes, eat your lunch with us, it is up to you.....we look forward to seeing you. Teachers will have your student's zoom link.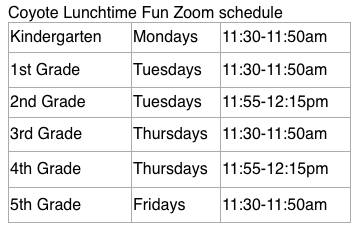 In Appreciation
Thank you PTA
For the welcome back 'Stick Together' goody bag for all staff members.

Congratulation Caring Coyote Winners in September
September 11 Winners:
Kindergarten - Abby Y. - Mrs. Vasatka
First Grade - Pedro J. - Mrs. Barton
Second Grade - Isabella H. - Ms. Masterson
Third Grade - Sarabhesh S. - Ms. Munoz
Fourth Grade - Brett B. - Mrs. Hollingsworth
Fifth Grade - Landon L. - Mrs. Johnson
September 18 Winners:
Kindergarten - Andrew W. - Mrs. Vasatka
First Grade - Joshua H. - Ms. Burns
Second Grade - Grayson M. - Mrs. Vagt
Third Grade - Krishna Gupta - Mrs. Burkett
Fourth Grade - student from Ms. Hall
Fifth Grade - Zia S. - Ms. Johnson
September 25 Winners:
Kindergarten - Eli J. - Mrs. Roland
First Grade - Jake S. - Mrs. Lindley
Second Grade - Sathvik M. - Ms. Liedle
Third Grade - Kendall C. - Ms. Nuss
Fourth Grade - student from Ms. Hart
Fifth Grade - Abigail A. - Ms. Vaughan
---
PTA News
PTA activities are not sponsored nor endorsed by the Northshore School District or any of its schools. The District assumes no responsibility for the conduct during or the safety of the activities. Northshore School District shall be held harmless from any cause of action, claim, or petition filed in any court of administrative tribunal arising out of distribution of these materials including attorney's fees and judgement or awards.
Helping Hands
Canyon Creek PTA Helping Hands is back. This is a confidential program to offer assistance to families in our school community. Complete form (available in English & Spanish) to request support. Learn more and/or request support.
Canyon Creek PTA Helping Hands está de vuelta. Este es un programa confidencial para ofrecer asistencia a las familias en nuestra comunidad escolar. Toda la información es manejada por el gerente de la oficina de Canyon Creek. Forma completa aqui para solicitar apoyo. ¡Gracias!
Canyon Creek PTA Survey
Please take a few minutes to complete a survey to help us know what is important to YOU, our school community! Canyon Creek PTA wants to focus on the things that will make a difference. Share your ideas with us!
Reflections!
The Reflections Program is a National PTA and Washington State PTA cultural arts competition. Students of all ages and abilities may participate and explore the arts based on the 2020-2021 theme: "I Matter Because..." Learn more about Reflections Program.
PTA General Meeting
We are thrilled to welcome all to our first membership meeting of the 2020-2021 school year on Tuesday, October 20, 2020 at 6:30pm-8:00pm. Hear about what is new and upcoming with our PTA and community. Please join us early from 6:00pm-6:30pm for social time.
Dates and Registration:
Parent Education
Pandemic Parenting: Supporting Your Child's Mental Health During Uncertain Times
Join Cher Anderton, MSW, LSWAIC and Canyon Creek PTA on Thursday, October 22nd, 6:30pm-8:00pm for a virtual community event! During this event you will learn three (3) tangible strategies to support your own and your student(s) resilience and mental health to minimize the negative impact of our current experience. Learn more and pre-register here.
Diversity, Equity and Inclusion Committee
Our PTA is forming a new committee called the Diversity, Equity, and Inclusion (DEI) Committee. We know that our PTA can only be the strongest when our leaders and members reflect the diversity of our school and community. Find out how to get involved
Pumpkin Decorating Contest
We invite all Canyon Creek Coyotes and their families to show their creative skills using art to bring their pumpkins to life. Contest will accept submissions from Monday, October 12th to Wednesday, October 28th. Learn more and how to enter contest.
---
District New
School and District Volunteer Process
Step one:
Step two:
Complete an online Volunteer Profile. At this time this process is done through Formstack, but as the year goes on steps 1-3 will be in one form. Final customizations are still being made as they were delayed due to COVID-19.
Step three:
Classroom or on-campus volunteers - complete a background check (level 1) through Safe Visitor Solutions. This background check is through the Washington State Patrol System which many of you are familiar with. More information about background checks are provided in the Northshore School District Orientation. *
Drivers or field trip chaperones - complete a background check (level 2) through Safe Visitor Solutions. There is a $12.95 cost to the volunteer to process this background check. If this cost creates a hardship that will prevent you from volunteering your time, please email partnerships@nsd.org. After your first year of volunteering, you will be asked to complete a free Level 1 background check at your yearly renewal.*
Step Four:
Volunteers who plan to drive on field trips must complete an authorization form and provide proof of insurance to the school's office:
*A criminal conviction will be reviewed on a case-by-case basis and does not necessarily disqualify an applicant from volunteering.
Northshore 3.0 Learning Stages
The information about the current learning model stage in Northshore School District will always be on the district website. New information was added on Friday, September 18. Information about the decision process for each stage was also posted on Friday. You can read Superintendent Reid's message here. We appreciate your understanding that school staff do not have additional information. Once the district communicates guidance and timelines to us for the next stage, our school team will then begin work to plan out all the details of the learning schedule and plan for student safety. We hope that you'll understand that when the district announces a new stage, our school team will need some time to plan before we communicate details to the community.


Permission to Release Student Directory Information
Annually, the District provides an opportunity for families to opt out of releasing their student's directory information. Historically, this has been a paper form that families return to their school's main office. This year, we've transitioned the form online! Families can choose to complete the form entirely online, print the form or complete it via a fillable PDF and email a copy back to their school's office, or request a paper copy to complete. In all of these cases, you are not required to send or take a paper form back to your student's school during this pandemic. Should you decide to complete the form, selecting one of the "opt-out" options for your student's information, we encourage you to follow up with your school's office to confirm your form was received. Forms must be submitted by October 15. Forms will be accepted after the deadline, but the District cannot be responsible for the release of Directory Information if the Permission to Withhold Student Directory Information form is received after the October 15 deadline of the current school year.
Permission to Release Student Directory Information Form
Pace Virtual Information Night 2020
PACE (Parents Active in Cooperative Education) is an elementary enrichment program offered by the Northshore School District for students in grades 1-5. The hallmarks of PACE include an enhanced educational experience due to high parent involvement, enrichment activities, encouragement for students to become self-motivated learners and a strong sense of community among families and staff. PACE is located at three sites in the district with feeder patterns from all Northshore elementary schools. PACE families commit to annual program support. Family volunteering may be either in the classroom, outside the classroom, or--new this year! --virtually from your home, as based on parent's availability and interest.
To find out if PACE is a good fit for your family and to learn more about the enrollment process, you are invited to attend the PACE Virtual Information Night hosted by PACE at Woodmoor Elementary Tuesday, October 20th, from 7:00pm-8:30pm.

Anyone interested in attending the PACE at Woodmoor Info Night should contact enrollment@paceatwoodmoor.org. The zoom meeting information will be sent to our registered attendees prior to Info Night
For more information about the PACE program please visit http://www.nsd.org/PACE or contact enrollment@paceatwoodmoor.org
Update Your Contact Information
As the new school year begins, we encourage families to take a few minutes to check their contact information, including phone numbers and email addresses. Schools use parent/guardian email addresses to create school mailing lists. The District also uses email as a tool for sharing important, and sometimes urgent, information with families. Automated phone calls are sent to families with safety and emergency messages
Parents can check their contact information in ParentVUE. Please contact your student's school if help is needed in accessing ParentVUE or if there are updates to contact information.
Sign Up for Our Drive-Through Flu Shot Clinic for Staff, Students and Families: October 5 - 9
Register and choose your 15-minute time slot by visiting the Seattle Visiting Nurse Association website. If you cannot make your appointment, please cancel or reschedule via the confirmation email sent at the time of registration. For more information click here

These low cost plans are used by many school districts across Washington. Although they are not the only provider of this type of coverage, they have been recommended by our Washington Schools Risk Management Pool.

I am kind, I am safe and I am a learner.